Letter from the Dean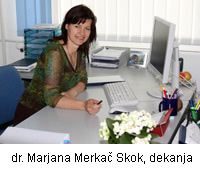 Dear Students
I am happy that you have now made one of the most difficult and most important decisions of your life. You have chosen to invest further into your personal development, acquiring new competences and upgrading those you already possess.
Your decision to continue your studies at the Faculty for Commercial and Business Sciences was made at the right moment. I firmly believe that a first or second cycle degree will greatly improve your competitive position. Nowadays, having specific knowledge, flexibility, innovativeness, and the ability to work with other people on various projects will give you a great advantage on the labour market. Individuals with these qualities can hold senior or management positions at various organisations; they can work as experts, advisors and analysts or as company owners.
The Faculty for Commercial and Business Sciences implements quality undergraduate and postgraduate programmes, all internationally comparable and recognised, with accreditation from the Ministry of Higher Education, Science and Technology. Our current higher education programmes in Commerce, Business Informatics and Tourism, and our postgraduate programme in Commerce, will soon be joined by new postgraduate programmes from the fields of Tourism and Business Informatics.
Naturally, the decision to pursue higher education is a big commitment and will place you under considerable pressure. One of the reasons for this is that studies are based on individual work and run in close co-operation with excellent lecturers offering you a lot to learn as long as you are prepared to work hard. Our lecturers are university educated experts with practical experience in the business world; many also perform research work in their field of expertise.
The first generation of higher education students was registered in the 2004/2005 period; by March 2009, 797 students had finished their studies with a degree in economics and are successfully using their acquired knowledge in their positions of employment. We also registered our first generation of postgraduate students in the 2007/2008 period. Our students are successfully facing the challenges of higher education and, overall, they have a very positive impression of their expectations being met. This is a great incentive to the governing bodies of the Faculty to continue their good work.
I wish you plenty of success in your studies!
Marjana Merkač Skok, PhD, Associate proffesor, Dean